Contact & Map
How to arrive
Hotel Bellevue in Dorf Tirol
Arrival by auto
1. Leave the A22 motorway at the Bolzano/Bozen South exit and take the Meran-Bozen expressway (MEBO). Follow this road for 28.5 km towards Meran
2. Take the Sinich/Meran South exit and turn right.
3. After approx. 100 m turn left and follow state highway 38 to the junction with minor road 8, which leads to Dorf Tirol.
4. Bear right and follow minor road 8 for approx. 2 km.
5. Then turn left and follow Schennastrasse downhill to Brunnenplatz. Here first turn left and then right and follow Cavourstrasse to the next crossroads. At the crossroads turn right into Georgenstrasse, which will take you directly to state highway 44.
6. Follow state highway 44 for approx. 2 km to the junction for Dorf Tirol, where you turn left.
7. This road will take you directly to Dorf Tirol.
Current traffic situation South Tyrol
Traffic information – Tel: 0039 0471 200198
Current weather condition South Tyrol
Luggage transport
So you want to take a vacation. And what about your luggage? Ship it in advance so that you can travel comfortably and stress free. This is possible with the Insam Express luggage transport service.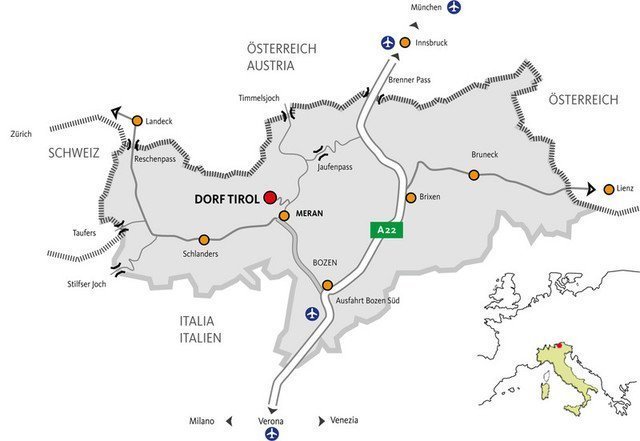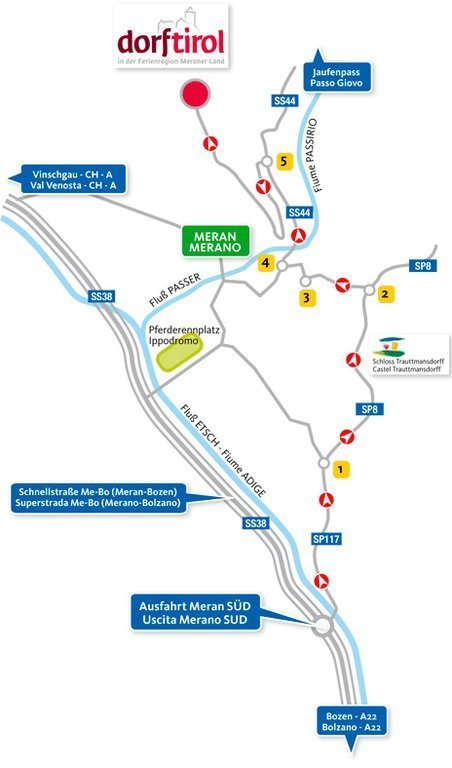 Arrival by train
The train: a safe and comfortable means of transport for your journey to South Tyrol. You can find information on timetables on the websites of the relevant rail companies.
Arrival by airplane
Look for flights to Innsbruck, Verona, Munich, or Bergamo. Direct bus connection to South Tyrol by SüdtirolBus.