Your friendly spa hotel in Dorf Tirol
Spend your spa holiday near Merano!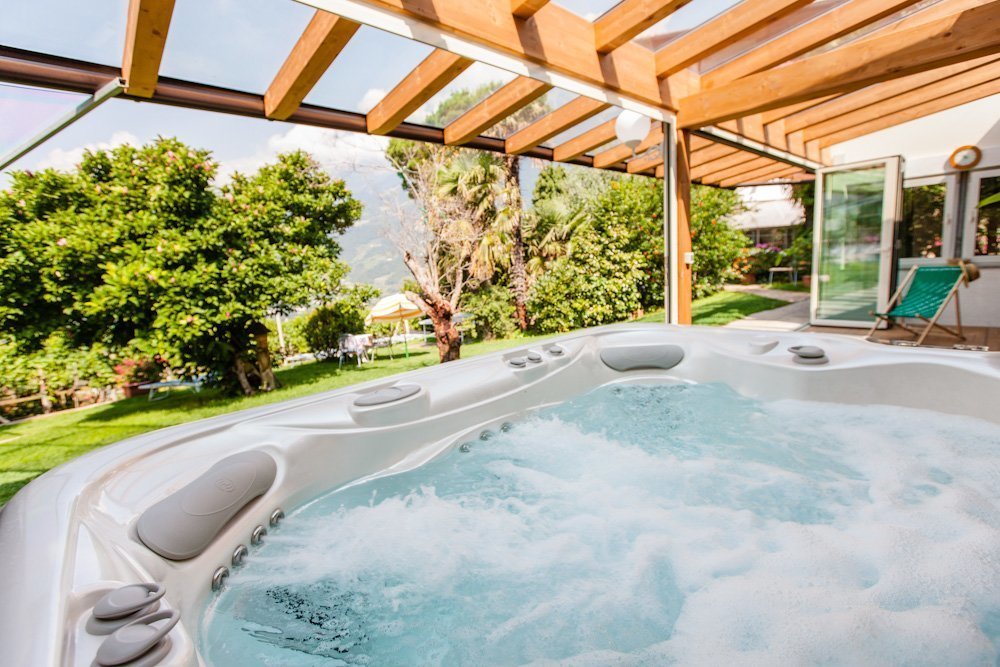 All of South Tyrol is a paradise for outdoor holiday enthusiasts – Merano and Environs is no exception. Those who like to hike, climb, mountain bike, or do other sports are of course looking to find the right balance and also need to regenerate and relax. Our spa hotel in Dorf Tirol offers everything in the same location and in a particularly beautiful atmosphere. We are also the perfect destination if you are just looking for that special spa experience in the Merano area. As a feel-good hotel, we will be your spa oasis, offering you enough variation for many days. Relax at our hotel and enjoy the idyllic surroundings. As a feel-good hotel par excellence, we know how special it is to experience our spa treatments in one of the most beautiful places of the entire Alpine region.
Your feel-good hotel
for easy summer days by the pool
From mid-April to mid-October our solar-heated outdoor swimming pool is at your disposal. Swim a couple of laps at your leisure while the sun of South Tyrol shines down on you and opens up the breath-taking panorama. Enjoy a refreshment under your parasol, sit back and unwind, and take in the view of the Marlingerberg just across from the pool. If you just turn your head slightly, you will catch the beautiful sight of the Etschtal towards Bolzano – from our pool, the holiday region and all its destinations are always in sight. Our patio pool is not the only opportunity to cool down on hot summer days – especially after long hikes. Our Mediterranée Annexe, which belongs to our spa hotel in Dorf Tirol, also has an in-house swimming pool surrounded by lush Mediterranean vegetation, providing a nice contrast to the mountain views. Of course your spa holiday near Merano would not be complete without a hot tub! Amid the gorgeous plant life of our hotel garden, you will find a canopied hot tub for you to enjoy.
Indoor swimming pool & sauna facilities
spa delight at a feel-good hotel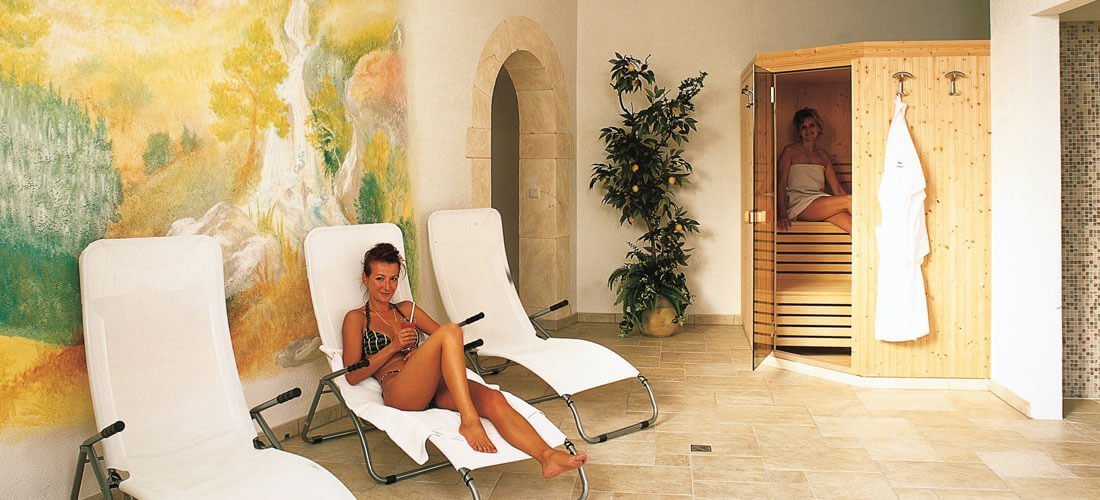 It happens to be one of the rare days that the sun doesn't shine in South Tyrol? It's cold and unpleasant outside? Or you're just looking to relax in the comforting warmth after a long tour? Take a day off and recharge in our indoor swimming pool or one of our sauna facilities! Let us open the gates to our comfortably heated pool for you, and show you the impressive mountain panorama through the large windows. After all, we take your spa experience in Dorf Tirol very seriously. We recommend a sauna session not only during the cold season, but consider it a highlight all year-round. Feel free to use the steam sauna, Finnish sauna, or infrared cabins of our feel-good hotel. You deserve it!
Physiotherm infrared cabins
the healthy extra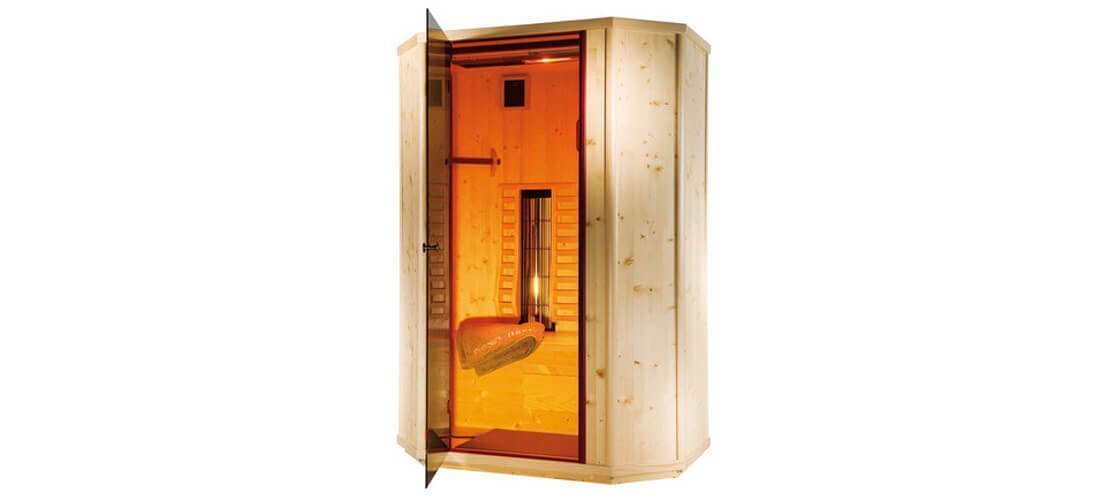 The Physiotherm cabin is a brand new part of our spa equipment. This state-of-the-art facility is known to effectively support your circulation and strengthen your immune system. Repeated use can also alleviate backaches. Each use is equivalent to a light cardio workout and is a healthy boost for your body. The manufacturer Physiotherm's innovative principle uses infrared technology in a very careful, but at the same time safe and efficient way. The contactless heat supply is based on a low temperature principle, which is considered to be especially beneficial to your blood circulation. Our 2 Physiotherm infrared cabins are available to you all day.

Our sun patio
your balcony seat atop Merano and Environs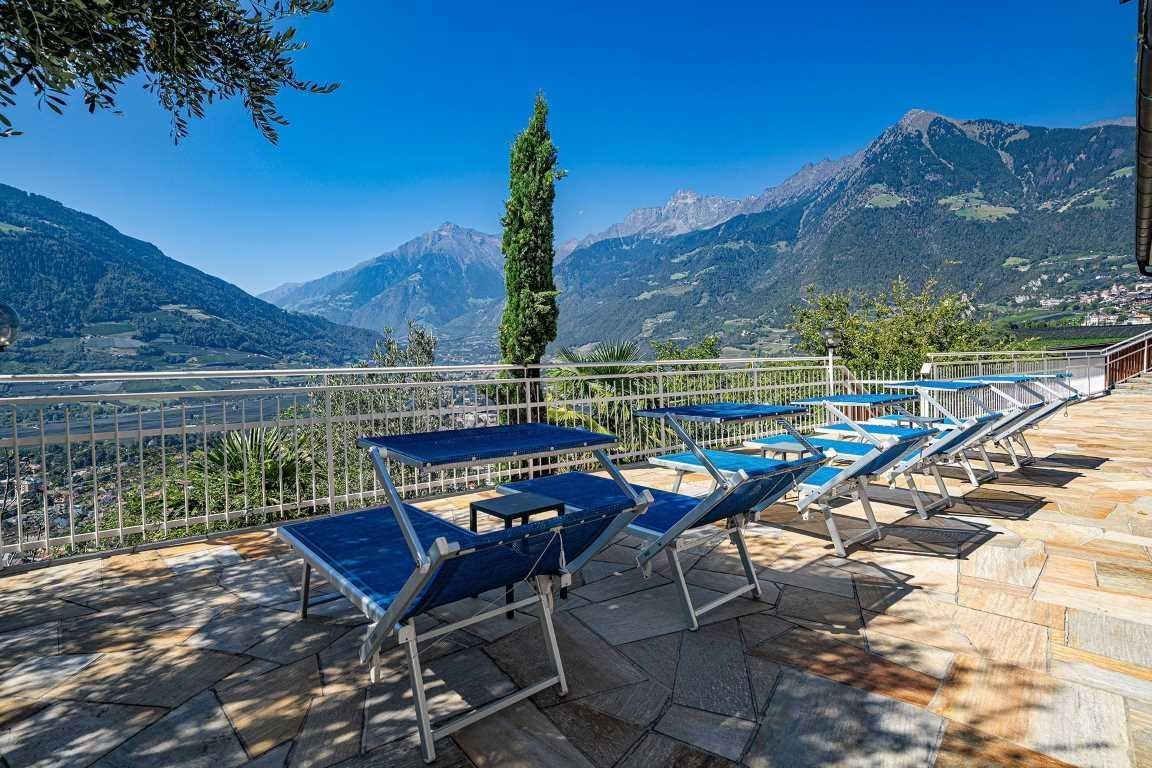 The large patio is the centrepiece of our feel-good hotel. Take a seat in one of the deck chairs or take in the view across the palm tree tops into the picturesque valley of the Burggrafenamt district. Across the valley, the breath-taking summits of the Texel Group natural park rise into the sky. This combination of Mediterranean patio, vastness, and heights makes for a uniquely attractive panorama – and we are sure that other hotels are a little jealous of our stunning views. This particularly relaxing spot is not just perfect for sun bathing and hour-long, undisturbed relaxation – it is also where we serve you breakfast or treat you to a barbecue night in the summer. All the while you are watching the glistening lights of the valley compete with the stars above you.