Mountainbike & Cycling
Holidays in South Tyrol
Mountainbike & Cycling
Holidays in South Tyrol
Mountainbike & Cycling
Holidays in South Tyrol
Biking holiday in South Tyrol
Alluring bike paths for mountain bike holidays, leisure bikers, and e-bikers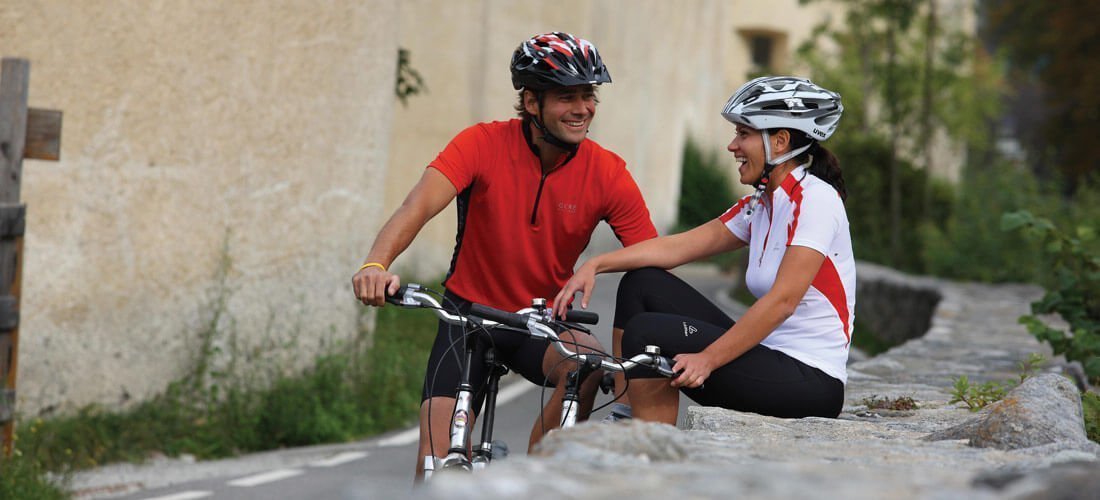 You want to hit the pedals on your holiday, get to know the country and its people, master athletic challenges, or simply indulge in the joy of cycling? You can look forward to an extraordinarily varied region with a multitude of bike paths that fit every purpose. As a centrally located biking hotel in South Tyrol, we offer you the perfect starting point for many tours on your mountain biking trip in the Burggrafenamt district and the neighbouring holiday areas. Whether it is a relaxed bike trip with your family, an ambitious mountain biking tour at higher altitudes, or a leisurely ride through remote valleys on your e-bike – we have it all! The guests of our biking hotel in South Tyrol can cycle through the following beautiful biking regions:

Tours through Merano and Environs
the magic of diversity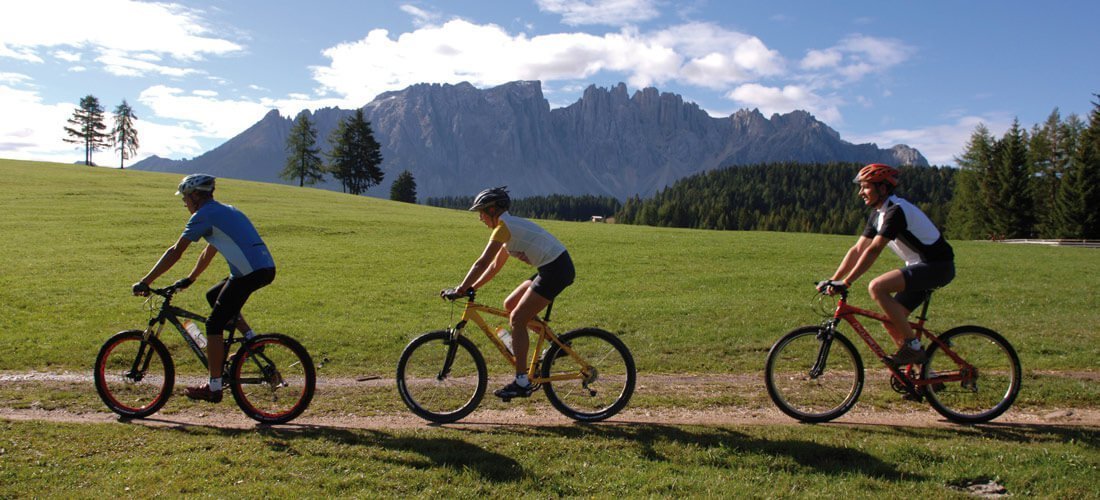 Our hotel in Dorf Tirol is situated in the heart of Merano and Environs. Its mild climate makes it possible to plan bike tours until late November to experience a variety of landscapes, vegetation, and architecture. Dreamy meadows and apple gardens, vineyards, romantic ruins, wine taverns, ancient chapels, and stunning mountain bike trails at dizzying heights, right up to an altitude of 3000m, await. For mountain biking trips, Merano and Environs is second to none and has everything a devoted biker could wish for.
Biking holiday in the Vinschgau valley
a first-class biking region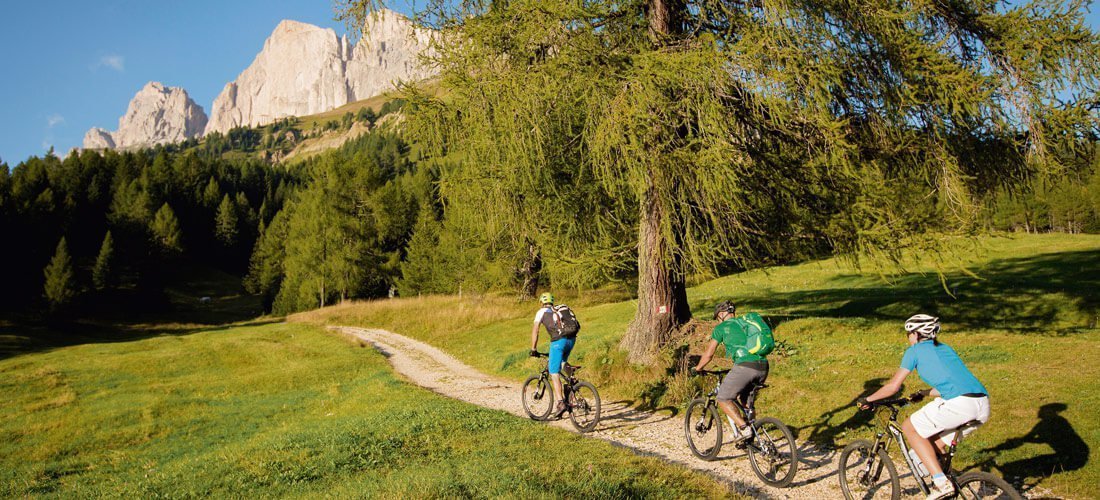 Using our biking hotel in South Tyrol as a home base, you won't just be able to explore the picturesque valley of the spa town or the neighbouring heights of Merano 2000 – you can also reach the nearby Vinschgau valley in next to no time. The valley, located between Merano and the Renschen Pass, is considered to be one of the best biking regions in the Alps. Especially suited for mountain bikes and e-bikes, you can discover charming villages, cycle along Waal paths, explore vineyards and castles, and conquer challenging mountain passes and Alpine trails on your biking holiday in the Vinschgau valley.

The Passeier Valley
Idyll in between mountains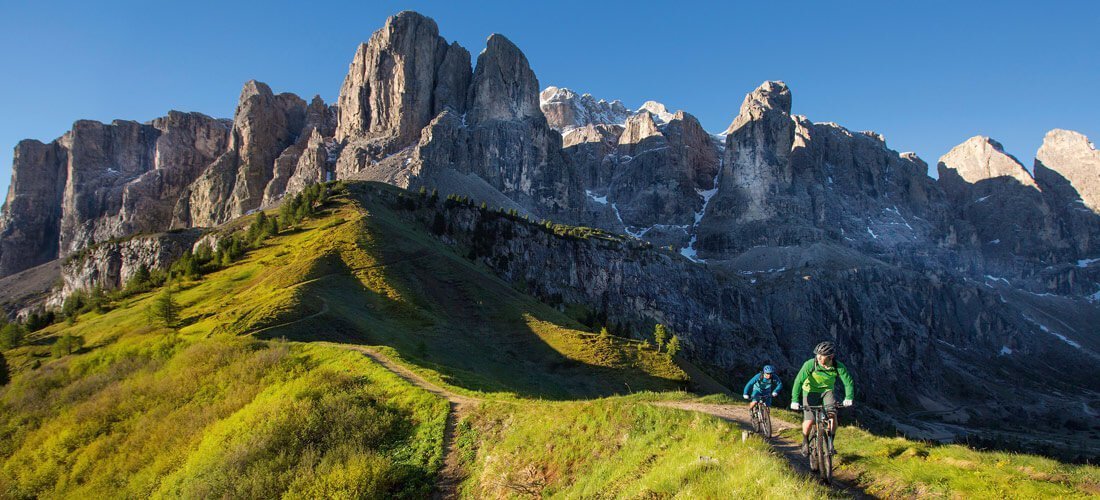 Especially during the summer months, the idyllic Passeier Valley, situated to the north of Merano and Environs, is an attractive biking location. Fragrant coniferous forests, bright meadows,  and orchards dominate the scenery. Looming large to the left and right, the giants of the Ötztal and Sarntal Alps and their imposing beauty will follow you all the way to St. Martin in Passeier or St. Leonard. With a bit of ambition, you can venture out further and conquer the Timmelsjoch or the Jaufen Pass – a winding dream for every biker!
These bike paths
will interest you:
Please find below some tour suggestions – just a small selection from a multitude of options:
Panorama tour through Merano and Environs
Route: Rabland – Partschins – Algund – Dorf Tirol – Rabland
This tour, which is approximately 18km long and of moderate difficulty, will introduce you to the beauty of Merano and Environs and can of course also be started in Dorf Tirol. With your mountain bike or e-bike you will be on the road for about 3 hours and cover an ascent of 760m.
Meadow tour around Schenna
Route: Schenna – Hoferhof – Streitweideralm – Videgg – Oberkrin – Prenn – Saltaus – Untertall – Schenna
Schenna is located across from Dorf Tirol, on the other side of the valley: the start and finish of an approximately 23.5km long mountain biking tour with an ascent of 1,329m. The ride includes stunning views of the Texel Group and goes past rustic farms, picturesque orchards, and meadows.
Biking and hiking tour on Merano 2000
Route: Hafling – Hubertus und Platt-Hof – Maiser Alm – Meraner Hütte
What about combining your mountain biking tour with a hike? The route is approximately 16km long and will lead you to the hiking area of Merano 2000. On the Maiser Alm, you can leave your mountain bike or e-bike behind and continue hiking to the Meraner Hütte. On your way back across the Kreuzjöchl, you will be rewarded with fantastic panorama views and reach an altitude of 2,028m.
Bike path through the Passeier Valley
Route: Dorf Tirol – Saltaus – St. Martin – St. Leonhard.
This rather easy bike path is about 24km long and reaches an altitude of 365m, travelling along the Passer. There will be many an opportunity to take a break or go on a little detour, for instance to the Sandwirt, the birthplace of Andreas Hofer (nowadays a museum).
To the Stilfser Joch in the Vinschgau valley
Route: Spondinig – Prad – Gomagoi – Außertrafoi – Trafoi – Stilfser Joch
This 37.8km long tour is the grand slam of mountain biking. The 52 hairpin bends require a lot of strength, and the finish line is at an altitude of 2,849m. This makes the route an absolute highlight!