Summer holiday in South Tyrol
Merano and Environs have all it takes for a fulfilling outdoor holiday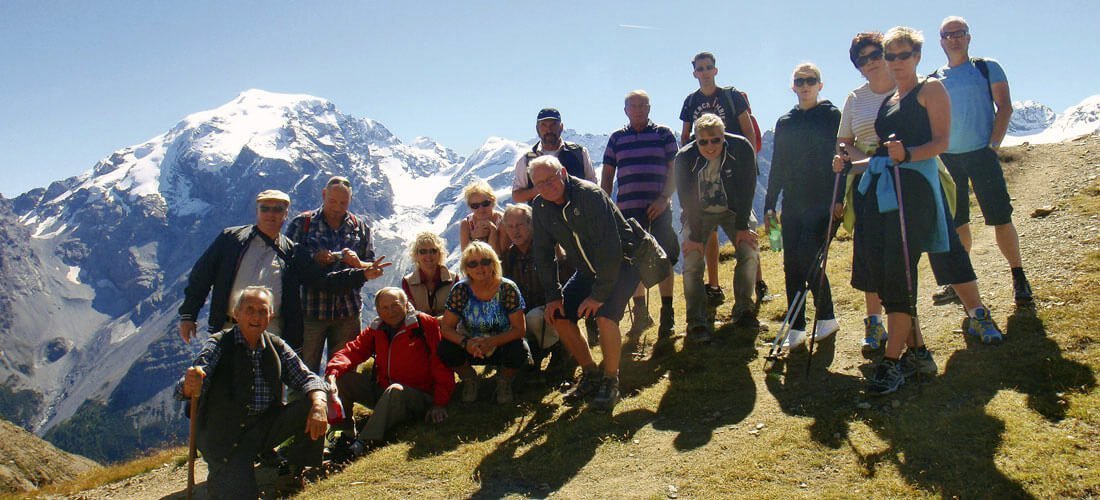 Have you come up with a round of activities for your summer holiday in South Tyrol yet? Almost everything is possible in Merano and Environs, thanks to the ideal combination of landscape and climate. Whether you want to go hiking, climbing, mountain biking, or cycling – or even challenge yourself to something more extreme by climbing cragged rocks, going white water rafting, or aiming for the skies! In Dorf Tirol and its surroundings, you will find many routes, trails, and a variety of offered sports that will get your outdoor holiday moving.
New this year: our own e-bike hire

Rafting
go down the Passer river on a raft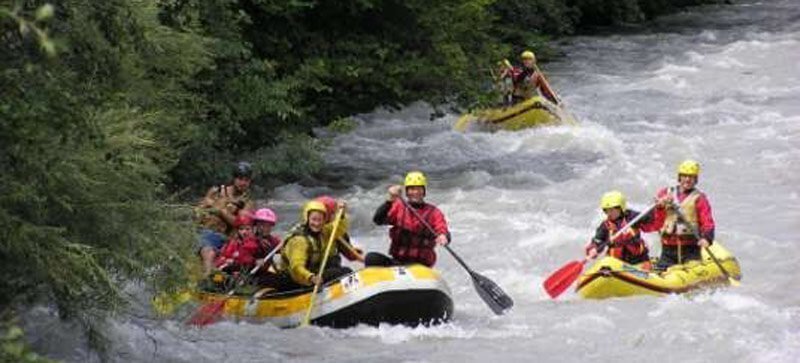 Where there are mountains, there is also gushing white water with churning rapids and small waterfalls. Dive into the floods on your raft, prove your team spirit and – most importantly – have a great time rafting! You will face the roaring elements as a group, depend on each other's support, and experience an exciting adventure in your life vest and with a paddle in your hand.
For boat tours on the Passer, we recommend the Südtirol Rafting Expeditions association, which will help you experience a part of nature that is so different from the typical meadows and mountains you usually get to see in Merano and Environs. Get involved – your group will be talking about it for months to come! You have never before experienced nature this closely during your outdoor holidays.
more information:
Paragliding
boundless freedom on a paraglider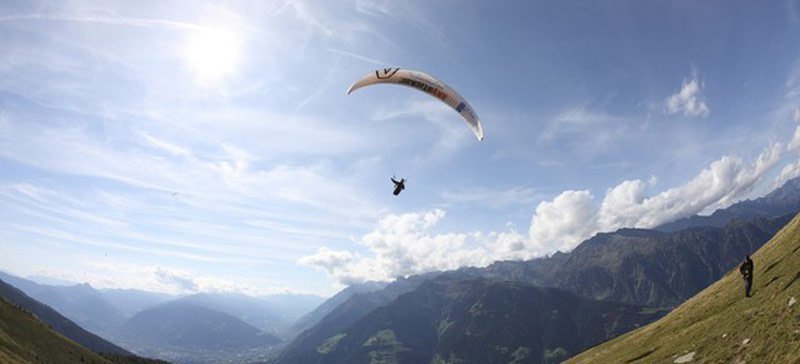 Fly like an eagle through the skies for a whole quarter of an hour and experience something you will never forget – make your dream of flying a reality. From the sunny patio of the Hochmut guest house (1,400m), from the Hirzer mountain (1,400/2,100m) or the Merano 2000 (Piffing, at 2,009m), you can take off for a unique flight with a tandem paraglider. When the sun is shining and the skies are clear, you can also embark on a spectacular thermal soaring flight.
The paragliding organisers promise that you only have to run for the first 15 metres before take-off (please bring appropriate shoes) – everything else will be taken care of by the seasoned tandem pilot. What do you think? Wouldn't it be amazing to always remember your summer holiday in South Tyrol thanks to this spectacular experience? Gliding through the skies, with almost no sound, would also be the perfect gift! We recommend one of these paragliding organisers:
more information:
Climbing
steep attractions surrounding Merano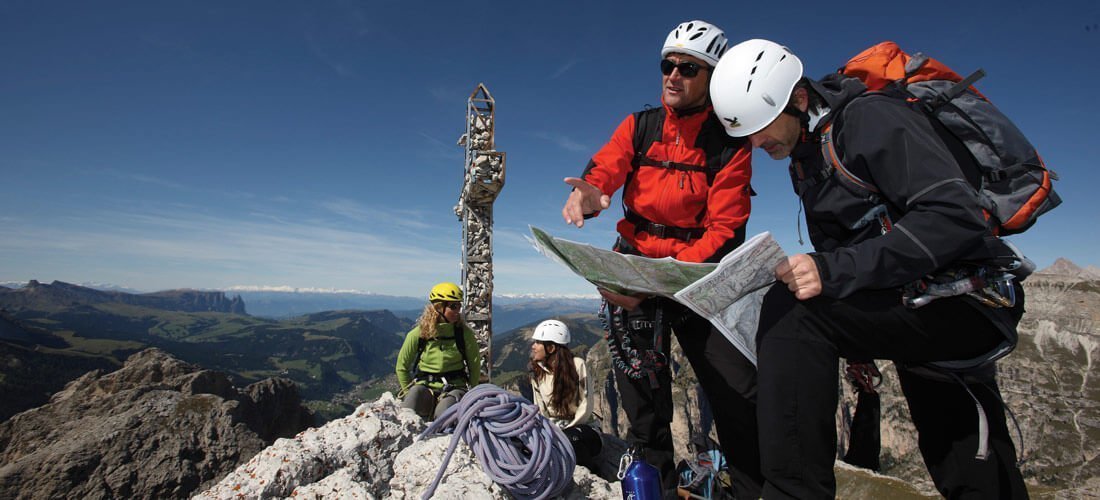 When leisurely hikers slowly run out of steam, mountaineers and rock climbers are only at the very beginning of their high-altitude adventures – Texel Group Nature Park awaits with mighty its summits. The Hohe Weiße (3,278m), the Naturnser Hochwart (2,607m) of the Ortler Group, and the all-surmounting Roteck (3,333m) have a magnetic attraction for mountaineers. The walls of these giants surrounding the Burggrafenamt districts are an almost unparalleled dream come true for any mountaineer.
You can also test your boundaries in the rock-climbing centres of our region and attempt routes of all difficulty levels. Maybe you are on a family outdoor holiday in Merano and Environs? Our high-wire and rock-climbing centres also offer first-class activities to introduce children to Alpine climbing. At Partschins (Burgstall – particularly suited for beginners), Lana (St. Hippolyth-Tisens), Naturns (Juval) and other locales in the vicinity, you will find the perfect conditions. And Oberplars near Algund is home to the biggest outdoor bouldering area of all of South Tyrol.
Sightseeing flights
exclusive views from the helicopter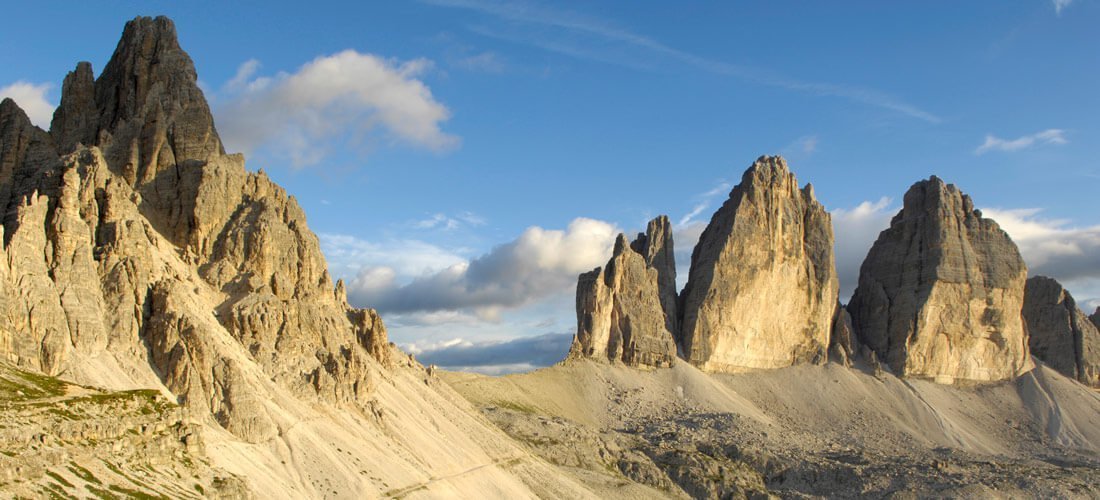 The summit views of the Merano valley are a class of their own. Those who don't want to climb mountains, but would still like to be amazed by these views, can board a sightseeing flight over South Tyrol. There are organisers offering every comfort imaginable, as well as exciting extras such as business transfers, tandem parachuting, and gourmet dinners after the flights.
A sightseeing flight over Merano and Environs is therefore an ideal way to add a particularly exclusive touch to a spontaneous business meeting on your holiday, your family trip to South Tyrol, or just on a sunny day off. A sightseeing flight is also a great gift idea in case it is your or a dear fellow traveller's birthday during your summer holiday in South Tyrol. The helicopters reach an altitude of up to 3,000m and give way to breath-taking perspectives that elude even seasoned mountaineers.
more information:
Horse riding
across mountain pastures on Haflingers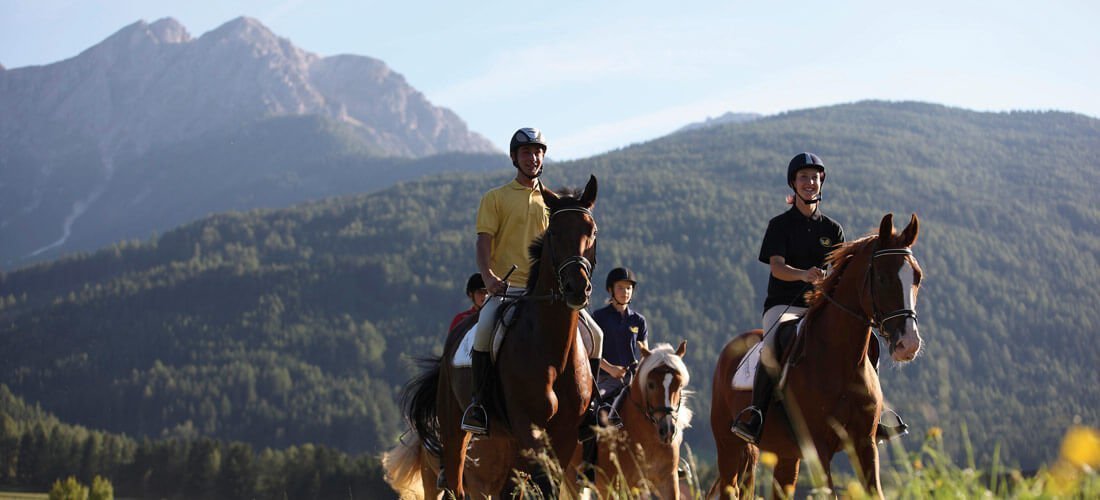 One of the biggest sports events for the local community is the "Grand Prize of Merano" on the Merano racecourse at the end of September. But perhaps you would rather sit in the saddle yourself during your summer holiday in South Tyrol? Enjoy the views on the backs of our strong Haflingers and get close to the beauties of nature in this very special way – just at a leisurely pace or even at a gallop. You won't want to dismount after your horseback trip!
Did you know that Haflingers, with their characteristic blonde manes, are originally from Merano and Environs? More specifically, as the name suggests, from Hafling. Thanks to their nature and their physique, they are the perfect riding animals for the mountainous landscape, and it is their good-natured character that makes them an outstanding fit for the less experienced riders. For riding lessons, introductory courses, supervised trips, and longer tours, we recommend that you get in touch with the following riding schools in the area:
more information:
Golfing
hole-in-one against a beautiful backdrop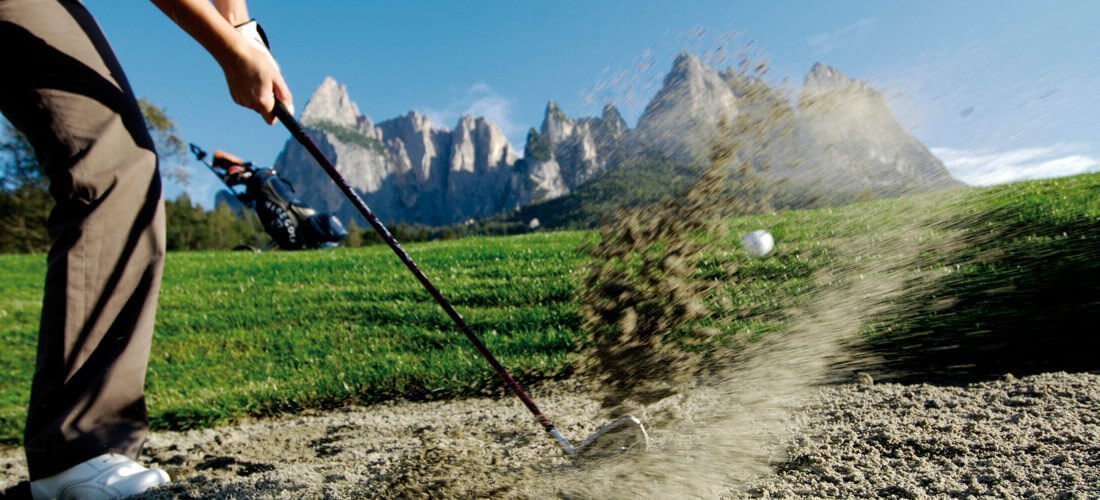 The news may not have reached the most remote corners of the world just yet, but South Tyrol has become a household name among golfers as well. Against the splendid backdrop of our mountains, the green is even more dazzling and the mountain air makes every shot twice as enjoyable. As a gentle sport, golfing is the perfect addition to the great recreational opportunities for your outdoor holiday in Merano and Environs. Some of our guests say that golfing is a natural fit for Merano's sophisticated atmosphere, but we invite you to see it for yourself! Just take your golf equipment with you on your summer holiday in South Tyrol!
Around Dorf Tirol, you will find a variety of golf courses. We would like to introduce you to those that are closest by: the Passeier Golf Club is only 10km from our hotel in St. Martin and offers a challenging 18-hole course. In Lana, which is about the same distance away, you will find a recently opened 9-hole course, designed by the renowned British golf course architect Michael Pinner, at the foot of the castle ruins of Brandis. Another beautiful 9-hole golf course can be found at Eppan Golf Club (25km away).